Thank you for visiting the Strata Connect website.
Strata Connect brings a fresh approach to Owners Corporation management in Melbourne. Our commitment to personalised service and professionalism is the cornerstone of our operations.
Strata Connect specialises in managing both residential and commercial Strata, Stratum and Company Share common property. Strata Connect does not deal with property sales or rentals - our time is spent focusing on effective management of Owners Corporations (previously known as Body Corporates).
We look forward to discussing the needs of your Owners Corporation and how you can benefit from the extensive services we offer.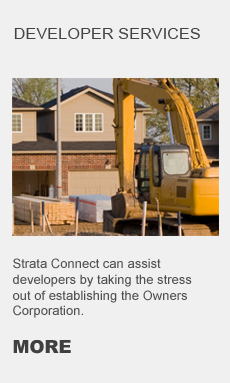 _________________________________________________________________________________
TESTIMONIALS
"Strata Connect commenced with us last year and since then,
we have got more done in the last year than we did in the
three previous years. They have been incredibly efficient in their
response to our Owners Corporation requirements".
Simon - 14 Merino St, Reservoir